Summer and Cocktails go together like peanut butter and jelly. Am I right? Hot sweaty evenings and cold alcohol fueled drinks are a symphony of happiness around here. I don't drink every night (don't worry!), but when I do and it's summer time- the bevy of cold fruity seasonal cocktails available are so exciting! Here I put my top ten Summer Cocktails which are perfect for your Summer Happy Hours!
1.) Spicy Gin Cucumber Lemonade
This is the perfect cocktail for sipping on a warm summer evening. I love the crunchiness of the cucumbers and, the little kick from the Cayenne Pepper laced lemonade. Spicy and refreshing all at the same time!
2.) Grapefruit Mint Vodka Cocktail
I cane up with this cocktail while visiting a friends house in Palm Springs. She has the most fabulous house and in the backyard was a big grapefruit tree! So for those of you who also have access to such a tree this one is a must for you! I love the fresh squeezed grapefruit combo with the raspberries and mint, it's not your mothers Greyhound for sure!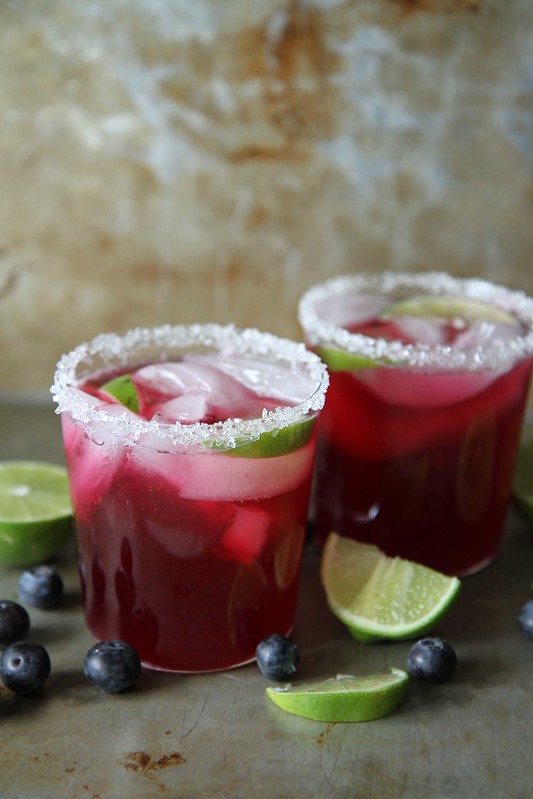 I'm a little obsessed with blueberries and I live to make blueberry simple syrup! That added to the fresh lime juice and good tequila, well…you just can't go wrong! Don't forget the chips and guacamole!
This is a fun & wild drink! It was inspired by a ferry trip across Puget Sound to a Restaurant called the Nola Cafe on Bainbridge Island. It's unusual in that I'd never really thought about adding Siracha to a cocktail before but, now I'm hooked!
Well there is nothing that says summer like a tall glass of cold Lemonade, so I tend to use lemonade as a cocktail mixer a lot during the summer! This homemade Strawberry lemonade is very concentrated, so it can be mixed with vodka for an adults only beverage or mixed with some club soda for a non alcoholic beverage as well.
6.) Cherry Lavender Beer Margarita
This punch, sweet and sour tequila cocktail puts a different spin on the traditional margarita! The combination of the ripe juicy cherries, sour lime, touch of fragrant lavender and the fizz of an earthy pale ale are, delicious! You just need chips and salsa to get the party started!
7.) Mango Coconut and Orange Vodka Crush
It is tropical and creamy and sweet (but not too sweet) and then has just the right hit of acid from the orange juice and lime juice. This is the perfect way to get an early kick start on your Summer weekend,
I enjoy a good Mojito! Ok so they're a bit of work but well worth the effort.
With apricots still in season this is the perfect Mojito for summer parties. The tartness of the apricot purée, with the sour lime juice, fresh mint and, a little rum….it's fantastic! Happy hour with a slightly tropical twist.
9.) Salted Watermelon Margarita
This combo is awesome! Perfect margarita for the upcoming 4th of July holiday! Nothing says summer like a sweet juicy slice of fresh watermelon and why not add some tequila to the mix! While I don't usually enjoy a salted rim it's a must on this one, it reminds me of those delicious watermelon & feta cheese salads!

10.) Bourbon Cherry Coke
Who doesn't love a cherry coke? I used to have like a weird problem with them. In college I had a sick diet cherry coke obsession – like a six pack a day kind of obsession. Please don't judge me. I don't really drink pop anymore, but occasionally a cherry coke still calls to me and that is how this cocktail came about. This cocktail is cherry coke all grown up and totally delicious. Also especially cute when served in mason jars with paper straws! The muddled cherries, sugar and bourbon are a perfect paring for a cold coke and are perfect for Summer BBQ's.
Print Recipe