These Sriracha-Honey Popcorn Clusters come courtesy of the new amazing book "the Kitchn cookbook" by Sara Kate Gillingham and Faith Durand. I just had to share one of the recipes that totally knocked my socks off- this insane popcorn.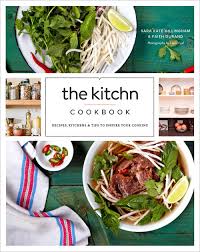 I did make some changes because of how we eat in our house- like all of the butter was swapped out for coconut oil. (And if you were vegan, you could swap the honey for agave). I also added honey roasted peanuts because I knew that Pia wasn't going to eat the super spicy popcorn anyways, and it just seemed to be begging for the sweet and spicy addition!
I think that you know how obsessed I am with popcorn anyways, and the idea of adding sriracha to the caramel was just to great to ignore.
The house smelled incredible and I had a house full of people that were dying to get into it!
I think that you probably need your own copy of the "Kitchn Cookbook" don't you think?!
So I am so excited that I get to offer 3 copies of the book to you guys!
Just leave a comment below telling me what your plans are for Halloween (are you dressing up!? Bobbing for apples?! Eating twix bars until you are green?!). Just let me know and you will be signed up to win a copy! This contest will run until Monday Night, October 20th at 11:59 PM. US residents only please ☺
(I will post the winner here on Tuesday AM)
Recipe: Sriracha-Honey Popcorn Clusters
Ingredients
Sriracha-Honey Popcorn Clusters
¼ cup coconut oil
½ cup popcorn kernels
¾ cup coconut oil
¾ cup honey
3 tablespoons sriracha
1 teaspoon kosher salt
1 teaspoon vanilla extract
¼ teaspoon baking soda
1 cup honey roasted peanuts
Instructions
Preheat the oven to 250 degrees. Line two sheetpans with parchment or foil.
In a large pot, heat the ¼ cup of coconut oil and then add the popcorn kernels. Put the lid on and cook the popcorn over medium heat until all of the kernels have popped. Move the popcorn off of the burner, add the peanuts and set aside.
In a 2 quart saucepan, add the remaining coconut oil and the honey and bring to a boil. Let cook, stirring occasionally with a wooden spoon, for about 4-5 minutes.
Turn the heat off and add the sriracha, salt, vanilla and baking soda. Stir rapidly as it will foam up.
Immediately add the syrup to the popcorn and peanuts and toss well, coating the popcorn as evenly as possible.
Divide the popcorn between the two sheetpans and bake for 60 minutes, stirring every 20 minutes and rotating the sheet pans. The finished popcorn will be a deeper color and it will be crispy. When you first pull the popcorn out you can press clumps together or leave alone and it will be like caramel corn.
Let the popcorn cool completely and then serve to snack on or store in an airtight container for up to a week.
Preparation time: 10 minute(s)
Cooking time: 1 hour(s) 10 minute(s)
Number of servings (yield): 12
Print Recipe