I'm so excited to re-share this recipe that has been a HUGE favorite on the blog in the last few years!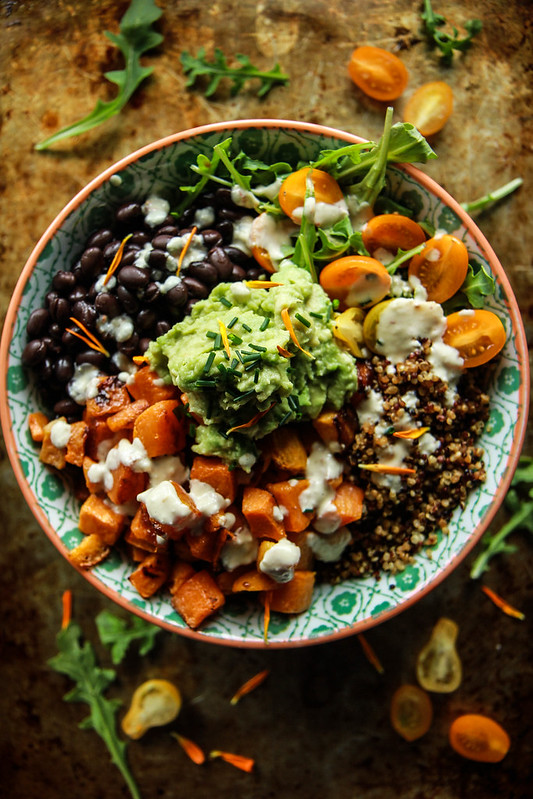 I think that people love it so much because of how intensely flavorful it is. Like every single element of the dish adds so much, and then it is all capped off with the most delicious zesty Spicy Lemon Cashew Dressing!
We have an awesome healthy restaurant in our neighborhood called Bounty Kitchen and I grab healthy salads there all the time- this is a riff on one of my favorites that I often get there. I love that it is so filling and nutritious and is seriously the perfect lunch or dinner. You could make this and use it for two lunches, take it to work,  or share with someone you love!
I hope you love it too!

Cuban Quinoa Bowl with Spicy Lemon Cashew Dressing
Prep time:
Cook time:
Total time:
Ingredients
For the Quinoa:
1 cup dried quinoa
1¼ cups vegetable broth
2 teaspoons ground cumin
1 teaspoon kosher salt
2 tablespoons minced flatleaf parsley
3 green onions, minced
For the Roasted Sweet Potatoes:
2 sweet potatoes, peeled and cut into bite sized pieces
2 tablespoons olive oil
pinch of cinnamon
kosher salt
For the Black beans:
1 cup canned black beans, rinsed and drained.
Kosher salt
For the Smashed Avocado:
½ a large ripe avocado
2 teaspoons chopped cilantro
½ teaspoon lime juice
kosher salt
For the Salad:
3 cups Greens (I used arugula and baby spinach)
1 cup Cherry Tomatoes, halved
For the Spicy Lemon Cashew Dressing:
¼ cup cashews
½ cup hot water
1 clove garlic
⅛-¼ teaspoon red pepper flakes (depending on how spicy you like it)
3 tablespoons olive oil
3 tablespoons lemon juice
2 teaspoons agave
kosher salt
Instructions
Preheat the oven to 400 degrees. Place the cashews in a glass and cover them with hot water- set aside to soak for 10-20 minutes.
For the Quinoa:
In a medium pot over medium heat bring the vegetable broth, cumin and salt to a simmer. Pour in the quinoa and whisk together. Bring the quinoa to a simmer and then put a lid on the pot, reduce the heat to low and let simmer for 20 minutes. Turn the heat off and let the quinoa sit in the pot with the lid on for another 15 minutes. Fluff with a fork and mix in the minced parsley and green onions. Season to taste with kosher salt.
While the Quinoa is cooking, make the sweet potatoes:
Toss the sweet potatoes with 2 tablespoons of oil, cinnamon and kosher salt and roast on a bare sheetpan for 17 minutes until golden brown and tender.
Warm the beans in a small pan if desired and season to taste with kosher salt.
For the smashed avocado:
Using a fork on a cutting board, sprinkle the avocado with salt and add the lime juice and the cilantro and smash everything together until well combined but still chunky.
Assemble the bowls by dividing the quinoa between 2 bowls, and topping with half of the sweet potatoes and half of the black beans. Add greens and tomatoes to each of the bowls.
To make the Spicy Cashew Lemon Dressing:
Drain the cashews and add them to a blender with the garlic, red pepper flakes, olive oil, lemon juice and agave. Puree on high until smooth- season to taste with kosher salt.
Drizzle the bowl with the dressing and add more as desired to taste.
SaveSave
SaveSave
Print Recipe