Merry Christmas!!! I hope that you have been having the most wonderful week before the main event this weekend? I have a little last minute shopping and ALL of my grocery shopping (gahh!!!) to do tomorrow morning and then I will be totally set to go!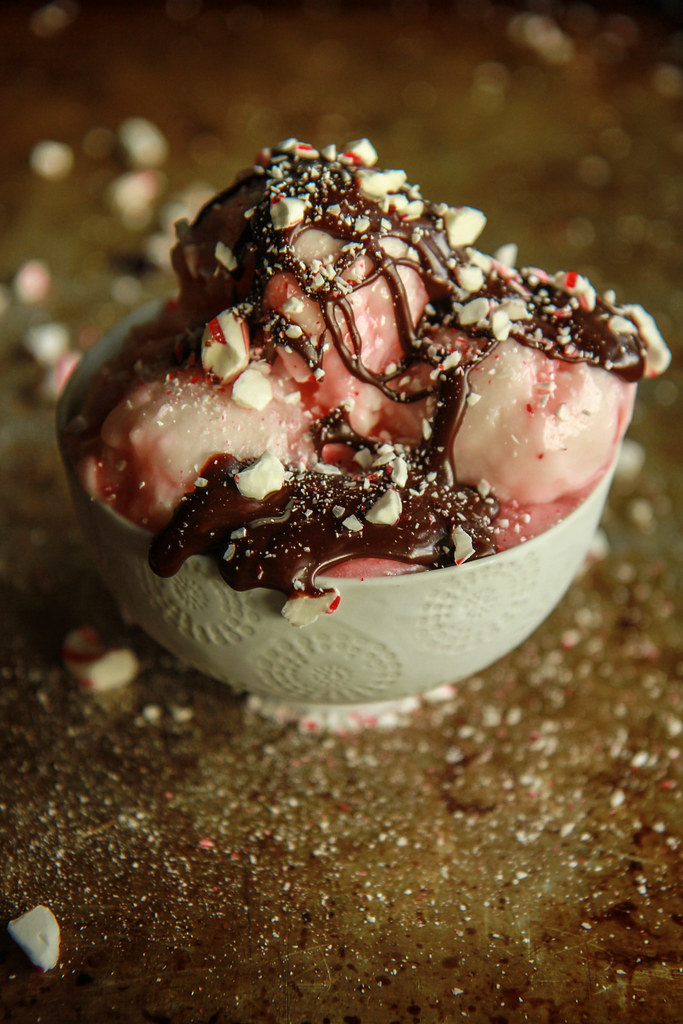 Sorry I have been checked out the last few days, I was nursing a terrible cold and then it was my 38th birthday (OMG!!) which I managed to drag out a few days with celebrations ☺
We are trying to keep it very low key today before the festivities on Christmas Eve really get going. My kids have been tucked into my bed with the dog watching an Adams Family Marathon and Pete, my older brother Chris and I have been on a couch surfing/Matrix marathon (I saw them for the first time ever?!)
Also, I helped myself to a big bowl of this Vegan Candy Cane Ice Cream with Peppermint Hot Fudge Sauce because, well, it's good. It's so incredibly good! And eating a big bowl of ice cream kind of goes along with lying on the couch all day, right? I knew I had to share the recipe with you even if you can't even think of getting to this until after Christmas- but frankly that is a great time to use up all of the candy canes! Right?
XOXO, H

Vegan Candy Cane Ice Cream with Peppermint Hot Fudge Sauce
Prep time:
Cook time:
Total time:
Ingredients
1 cup sugar
2 15-ounce cans unsweetened Coconut Cream (in a can)
½ teaspoon kosher salt
2 teaspoons peppermint extract
½ cup unsweetened coconut milk (in a carton, not a can)
3 tablespoons corn starch
12 candy canes, crushed
Peppermint Hot Fudge Sauce
1 cup unsweetened canned coconut cream
2 teaspoons peppermint extract
2 tablespoons corn syrup
8 ounces vegan chocolate chips
pinch of kosher salt
Instructions
In a medium saucepan over medium heat whisk together the sugar, coconut cream, salt and extract. Bring to a simmer over low heat and cook for 5 minutes
While the base is simmering, combine the coconut milk and corn starch in a small container and shake until well combined. Whisk the mixture into the ice cream base and continue to simmer- it will thicken up almost immediately. Add a few tablespoons of the candy canes and stir and then remove from the heat. The candy canes will melt and give the ice cream a pink tint. Let the base cool completely.
Transfer the base to an airtight container and then stir in remaining candy cane pieces. Freeze at least 4 hours and up to over night.
For the Peppermint Hot Fudge Sauce: Combine everything in a saucepan and whisk until the chocolate is melted. Immediately take off heat and let cool slightly (or completely) and then spoon on top of scooped ice cream. Top with crushed candy canes to serve if desired.
Print Recipe